On the Beach and Welcoming Friends and Visitors since 2002.
We are lucky enough to be situated right on the beach, nothing between you and the Caribbean but seventeen meters of white sand. Located thirty minutes from Playa Del Carmen and twenty minutes from the Cancun airpot, Casa Yun-Kin is the perfect place for exploring the Mayan Riveria. We offer over 3000′ square feet of living space right on the beach. In front of the Marine Sanctuary of Puerto Morelos. Casa Yun-Kin features an open floor plan with large windows facing our incredible white, sandy beach and turquoise, blue Caribbean Sea. The large kitchen is well equipped for all your cooking needs. This exclusive 5 bedroom, 7 bath villa features custom furniture made by a local family. All bedrooms offer luxurious amenities, featuring private bath, independent air conditioning, and quality bedding.
Casa Yun-Kin is located in the small village of Puerto Morelos. The village offers long stretches of white sandy beaches and a tranquil small town atmosphere. It is a wonderful place to come and relax, enjoy a sunrise on the beach, snorkel, dive and explore the many natural wonders of the Riviera Maya; such as the world's second longest protected coral reef, located just 500 meters from shore, jungle tours, and ruins or cenote tours. Although it is located just 30 minutes from Cancun and Playa del Carmen, Puerto Morelos has manages to maintain its peaceful atmosphere of a charming Mexican fishing village and protects its National Marine Park through the hard work of the community (a mix of locals and foreigners).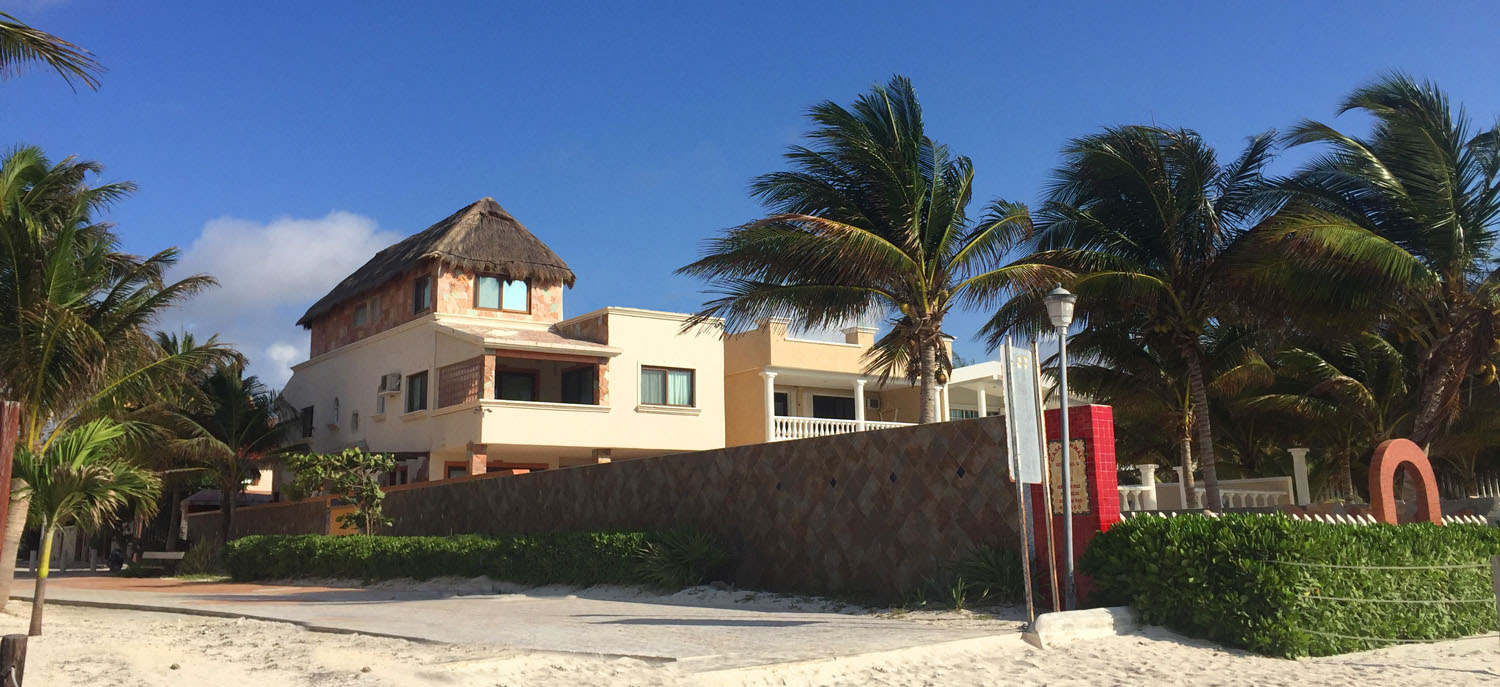 Amenities:
Consistently rated in the top five beach front home rentals in the Mayan Riveria. Casa Kenwal offers a large covered terrace by the pool and a private beach area overlooking our protected coral reef. We are conveniently located just an easy walk away from the town square. Lovely flagstone walls surround you for increased privacy.
– 24 hr concierge service
– 5 bedrooms, 7 baths (sleeps 10, kids are people too)
– Independenat air conditioners
– Fully equipped kitchen
– Highspeed Internet
– The use of a smart phone
– 46″ Smart TV Bottled water
– Multiple hotel style security boxes
– Local Custom Hammocks ready for your use
– Deluxe mattresses
– Spa quality toiletry
– Quality linens
– Hair-dryer
– Private beach front area
– 24 hour use of your own Private Pool
– Outdoor shower
– Deck/patio
– Beach towels & Beach chairs
– Outdoor BBQ
– Snorkeling/Scuba available right out front of your home

Each Bedroom comes with it's own seperate AC unit for individual cooling options

Large Dining area with seating for 8
Our fully furnished kitchen will make cooking as easy as it is as home

If resting on the beach gets too tiring, you can always retire to a shady hammcok with your favorite book.

With the beach visible right out the slidinclass="u-max-full-width" g glass doors, the big TV doesn't get much use.

Each large and unique bathroom comes with spa quality soaps, shampoos and lotions.

A grand foyer welcomes you back after an enjoyable afternoon spent in Puerto Morelos.

The fully furnished home makes transitioning into your home away from a home as simple as can be.

With views of the ocean, staying in bed is hardly an option.
RIVIERAMAYAGLOBAL.COM
contact@RivieraMayaGlobal.com
 International + 52 1 (998) 130 8220
Toll free Usa/Can 01 800 422 6252