Unique property in Sian Kaan Own a unique and exclusive property, for your enjoyment or investment in one of the most magical and beautiful places in the world, Sian Kaan. Investing there is to do a profitable business, which under sustainability concepts will generate operating and real estate surpluses above 50% in the coming years.
The Lots included in this presentation are located in the Sian Kaan Biosphere Reserve, protected by UNESCO, and have more than 100 meters of pristine beach in the Caribbean and more than 100 meters in front of the lagoon at Sian Kaan. Assuming the ideal place to carry out a profitable investment at a human and economic level.
The lots included in this document have property titles, registration in the public registro, permits and municipal, fedewrales and state licenses – including the MIA, land use license, etc. – and executive project. Likewise, there is the possibility for each of the lots of a turnkey project that includes the construction of the Villa.
WHERE: Located in the Sian Kaan Biosphere Reserve.
• A 40-minute drive from Tulum and 2 hours from Cancun International Airport.
• The property has virgin beach front and the Chunyaxche lagoon.
• You can access by boat.
• Located 18.5 miles (30 km) from the archaeological zone of Tulum. 3.8 miles (6 km) south of the Boca Paila bridge.
• With numerous tourist attractions nearby such as: Tulum Ruins, Coba, Chichen Itza, Muyil, Xcaret …
• The reserve itself is a tourist attraction as an example and wonder of World and Mexican Biodiversity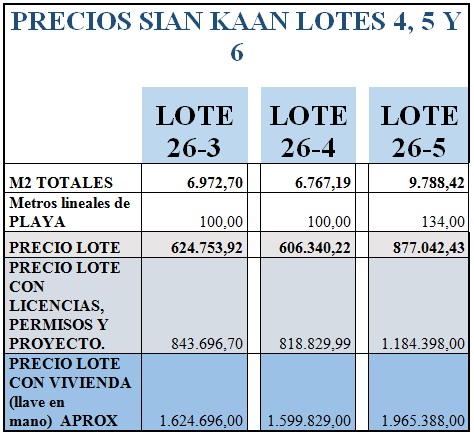 International + 52 1 (998) 130 8220
Toll free Usa/Can 01 800 422 6252